We are working to raise seed capital to better facilitate growth related efforts.
Auto Monkey's mobile automotive repair platform is one of the fastest growing apps in the automotive industry. We average 10-15 new automotive technicians requesting to join our platform weekly. This interest in Auto Monkey has led to a 252% YoY growth in our network, propelling into one of the largest mobile automotive repair companies in the nation. Serving over 300 cities across 30 states, our platform is able to reach more than 1.2 million customers.
Current market valuations are upwards of $230B with a 5 year company valuation of $9.6MM.
Overview — Automotive Repair Anywhere
Auto Monkey is an automotive repair service that comes to you. Our qualified and vetted contract mobile mechanics handle any number of light car repairs right in the customer's driveway or parking space. Repairs are quality, and pricing is often better than "in-shop" options, and we provide an industry leading 2-year/24,000 mile warranty. Auto Monkey governs all the estimating to ensure consistency across the board.
car owner's top Anxieties about car repair
Do I have to miss work again to get my car fixed?
Who can I coax to drive me around while my car sits at a shop?
Can't a mechanic just come to me instead?
Is the mechanic reliable? Is there a warranty?
Easy to use. Easy to pay. Easy to share.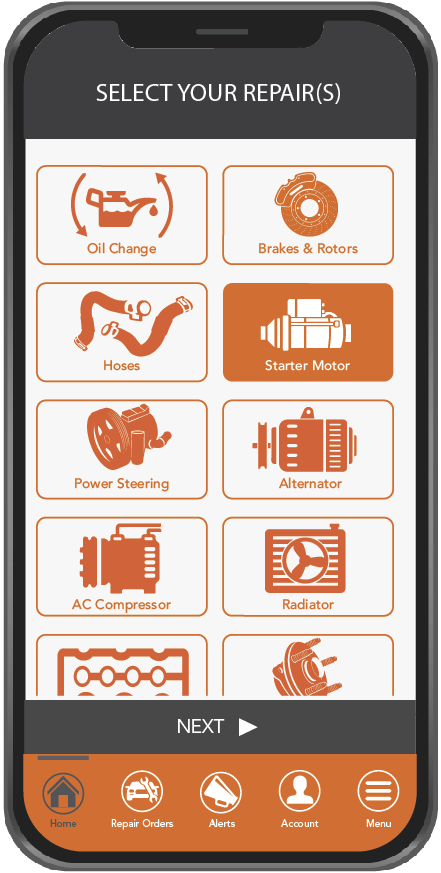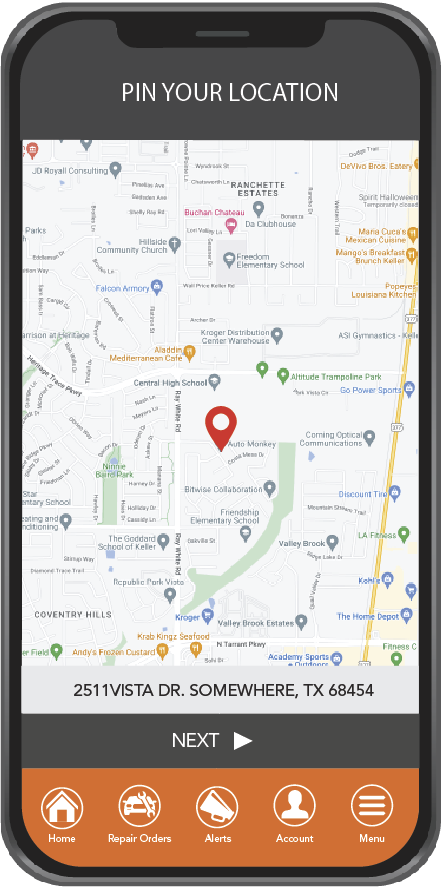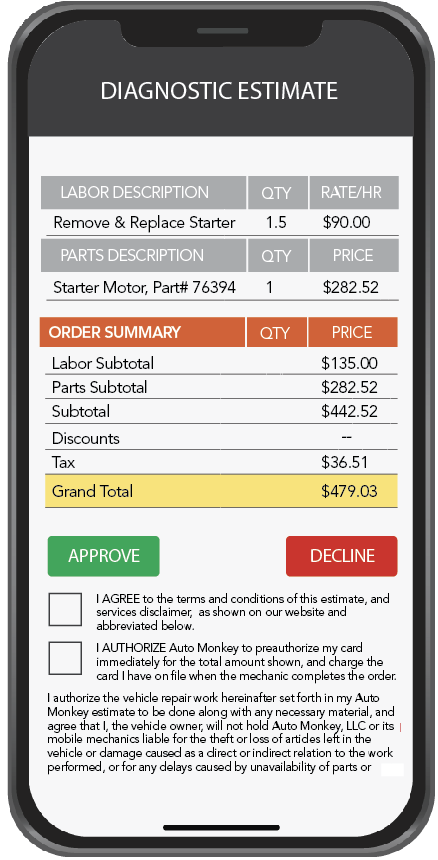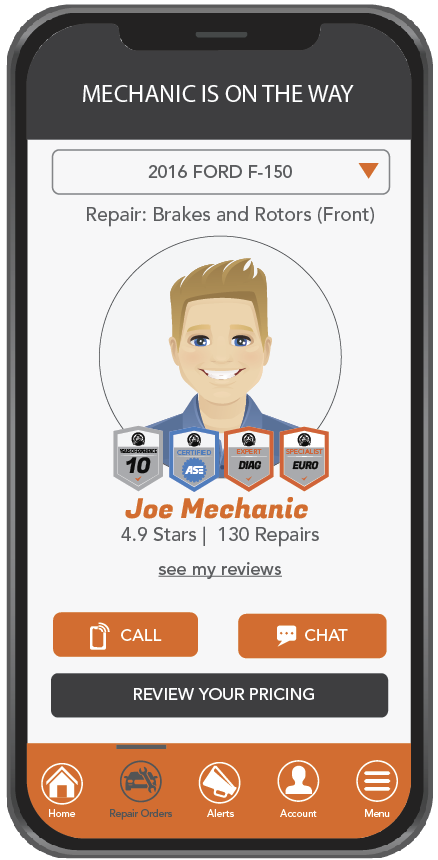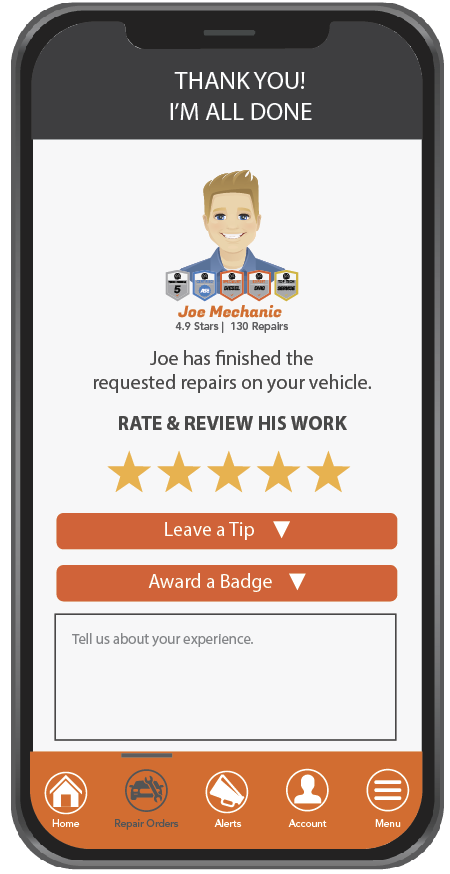 Auto Monkey is convenient, secure and contactless. Customers love how easy it is, the dependability, the cost savings, and the peace of mind they experience from knowing their car is handled properly.
"I will use this service again. I am a happy customer. Great way to get your car fixed without leaving your house. They are cheaper than the local places also."

John D. - Google
"Auto Monkey is convenient, quick and reliable. And they do a terrific job. We have used them for repairs as well as getting our oil changed. I highly recommend their service."

Mark R. - Facebook
"Words cannot describe how thankful and grateful and happy I am that my car is fixed. I don't know how many times I'm gonna say it. but thank you so much for everything!!"

Brianne D. - Google
"He came out to my house later in the evening and replaced the thermostat quickly. He communicated with me often to find a good time for me and got it done! I'm back and running! Great job! Thanks"

Scott R. - Apple
Rapid growth in an untapped market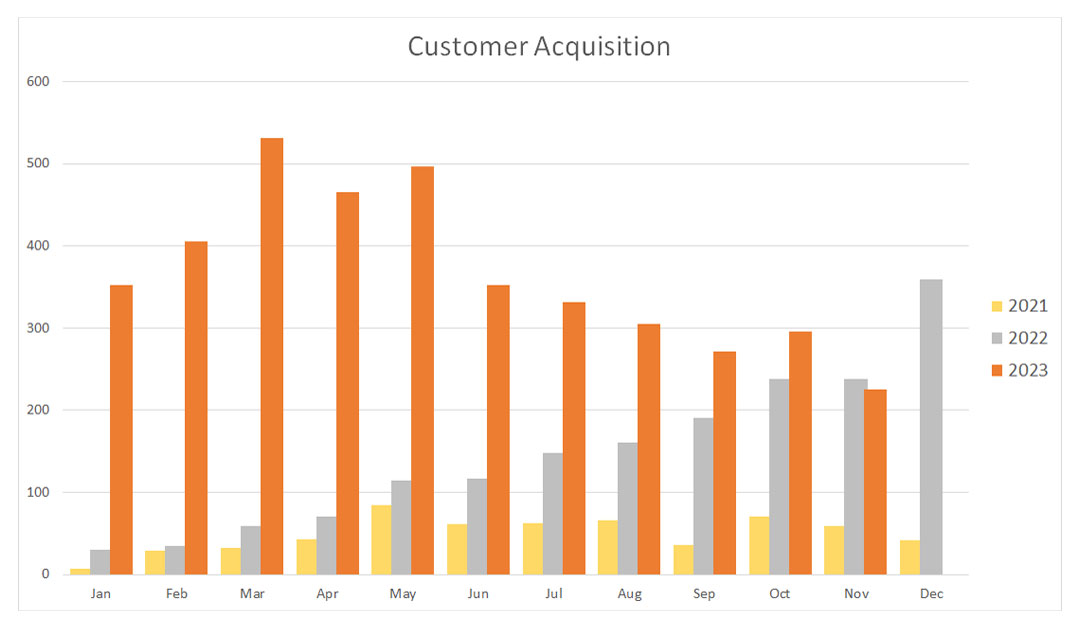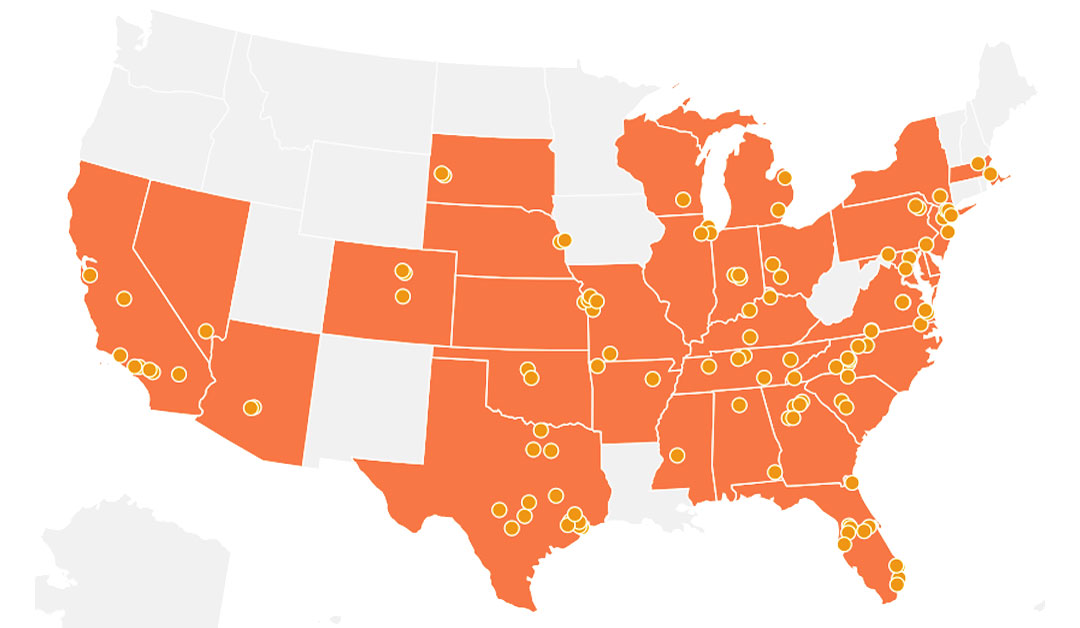 * The decline in customer acquisitions over the past 2 quarters is 2 fold. Partly due to market conditions and partly due to reduced marketing dollars. Discrepancies between requests and revenue are largely due to the following reasons: 1) Requests made are "out of area." 2) Customers testing pricing options with multiple repair scenarios. Other marginal reasons may exist.
** Map of locations is a capture of all locations as of Nov 30, 2023
A look at the u.s. automotive repair market
Total Available Market

800M Cars
1
Total Serviceable Market

72%
2
- 576M Cars
Auto Monkey Valuation4
$9.6M
1Reported by cars.com
2Reported by v12 data, a Porsche Company, that 72% of used cars are not using a dealer for their repairs and maintenance.
3TSM x AVG Ticket Cost = Market Valuation.
Auto Monkey's bootstrap valuation4 is a 5 year cumulative based on past growth and forecasting continued growth at that same rate. A separate 5 year valuation forecast shows as much as $33M when considering a $1.5MM annual investment.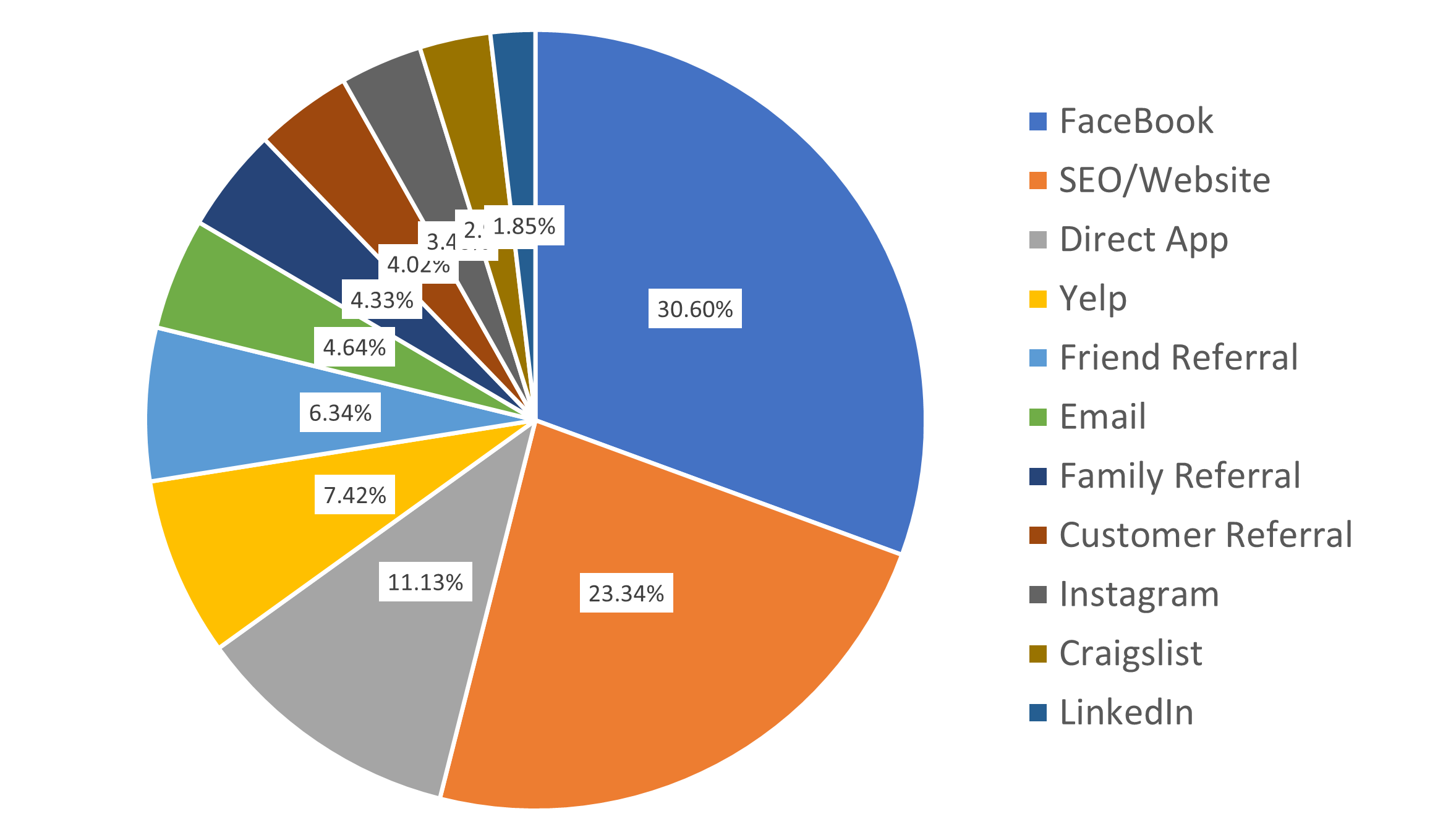 We have found the majority of our customers come from social media. This fits with general marketing trends where more 68% or more of leads come from digital efforts. Our remaining come from friend, family and customer referrals.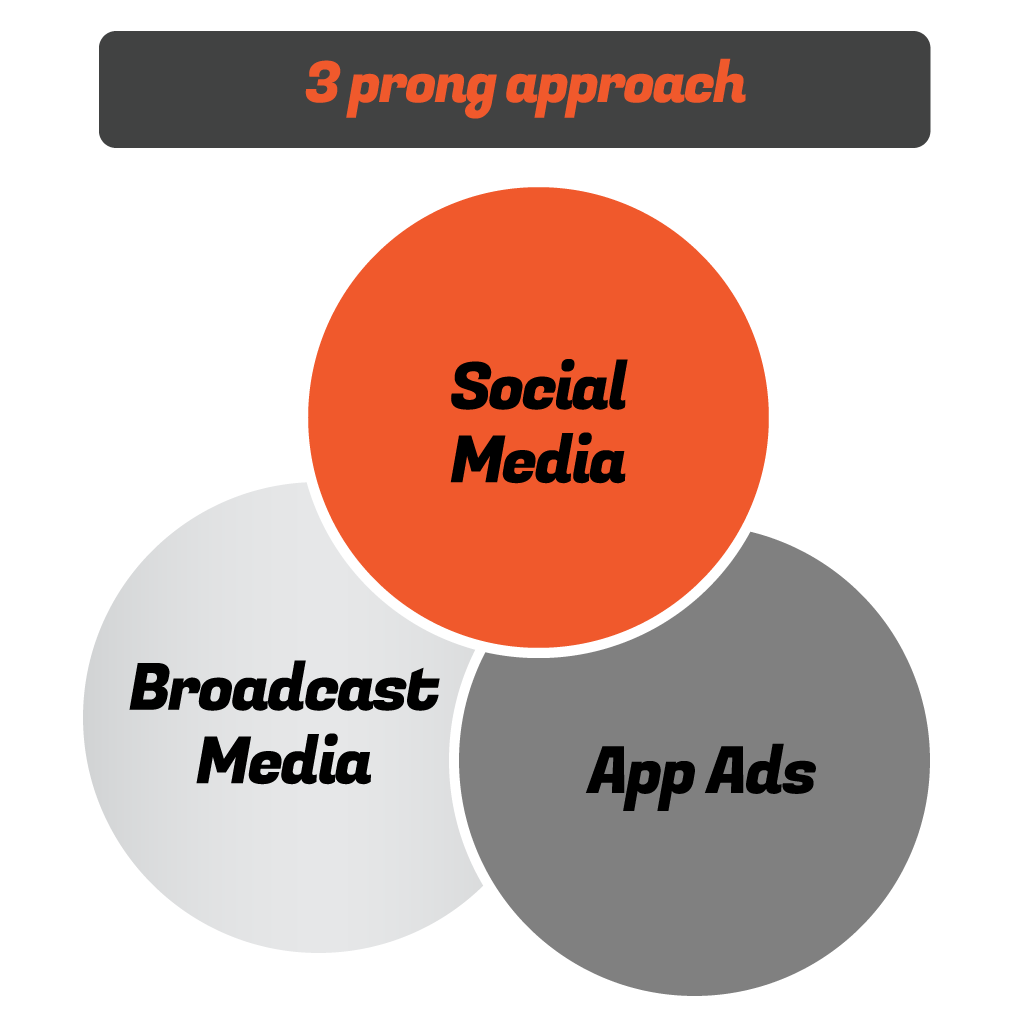 Marketing plans will double down on our top 2 lead generators, Meta Platforms and Referrals. We aim to help with general public awareness using broadcast media in our top 3 markets.
Users are more easily reached via the app itself and continued social media presence.
We will continue to improve our organic presence through a more integrated marketing effort, that is truly holistic in nature. Organic growth has been the hallmark of Auto Monkey to date and continues to serve us well.
THE GO-TO MOBILE MECHANIC APP.
Recognized as Reliable, Affordable, Intelligent and Easy to Use.

Enjoyable ads geared to grow brand awareness, improve engagement rates, and incentivize sharing.
Push notifications and Ads geared to improve repeat business, online reviews and shares.
Unique memorable commercials that instill the fun, good-natured culture of Auto Monkey, and combine the intellect of well-experienced, certified technicians.
mECHANICS PREFER aUTO mONKEY OVER Other APPS
Mechanics, like customers, love the advantages the app provides over comparable apps.
It simplifies their life, wrenching, and maximizes their payout.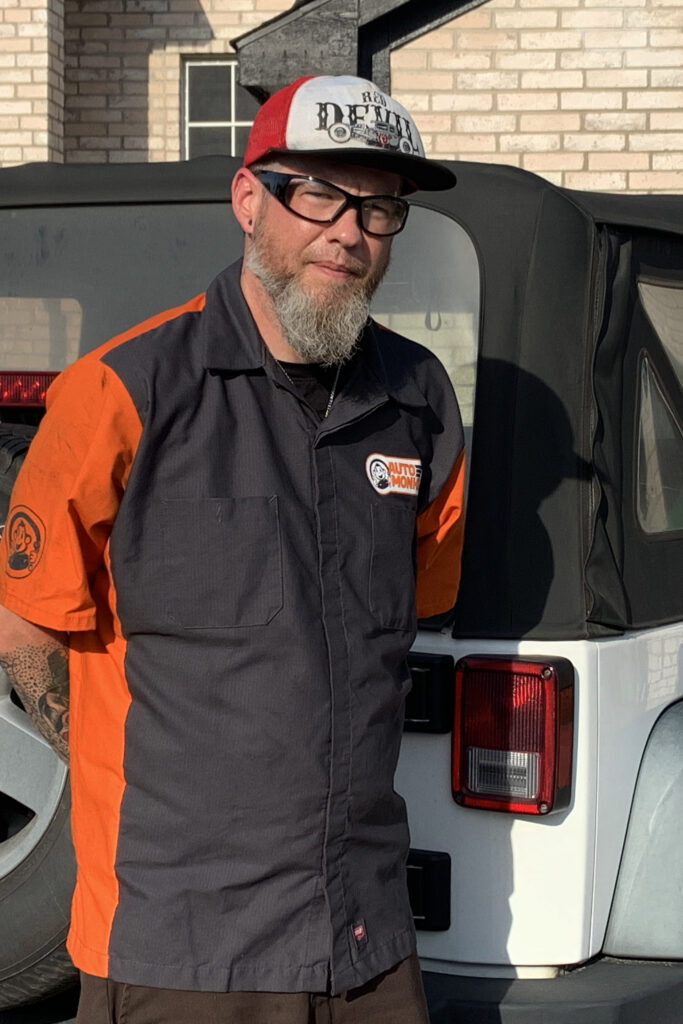 Meet Jonathan, our first contracted mechanic. While John has plenty of mechanical skills in his 15 years working on cars, he also has had difficulty finding the right place to work for. Jonathan didn't have the funds to start his own business, nor wanted to assume the risk, which put him in a tough situation.
With Auto Monkey, "It takes all the worry and work out of being my own boss. It brings me the work, handles the parts, and customer payments. It's totally worked out in my favor."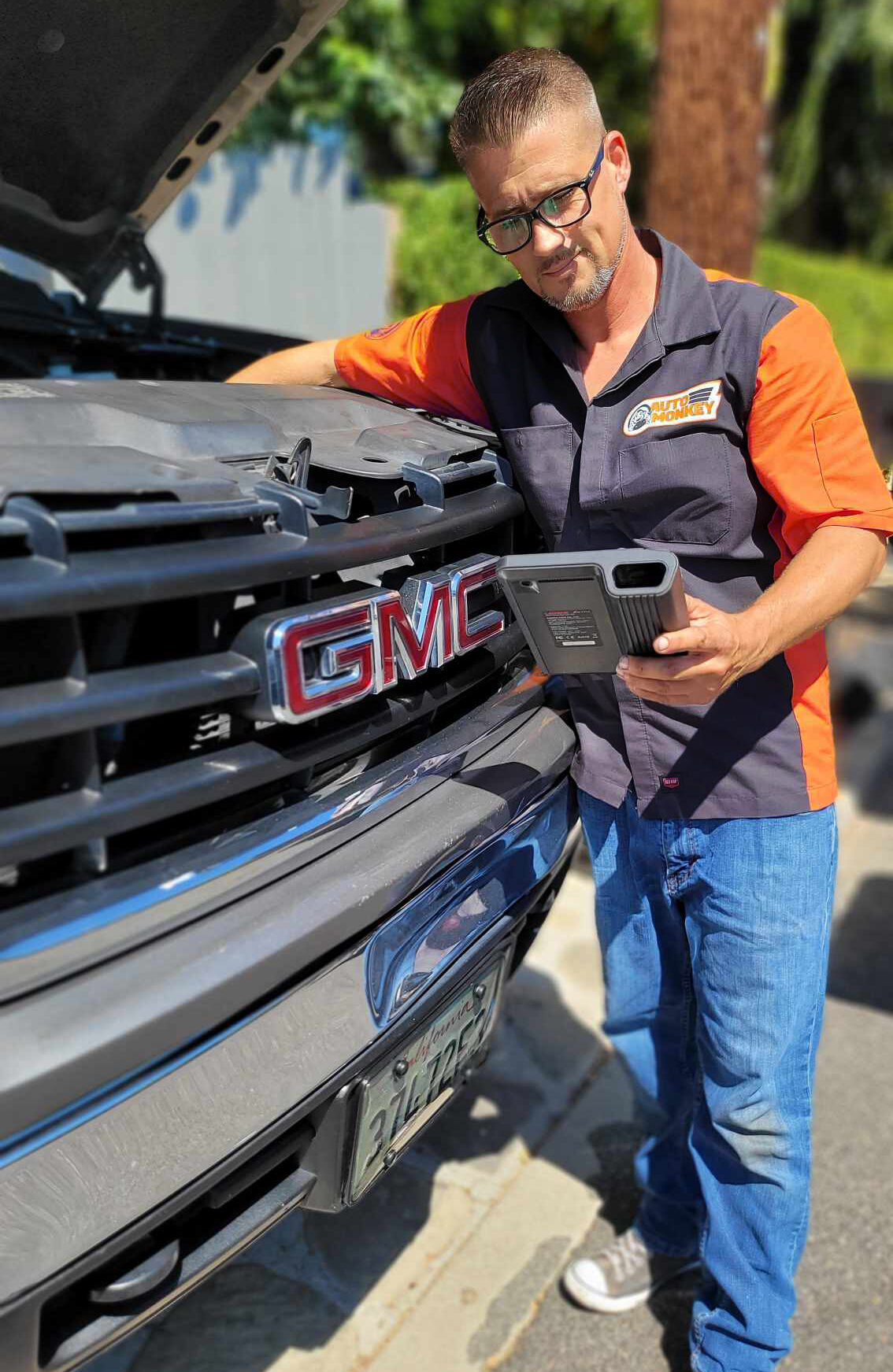 Meet Wesley, a mechanic in Ojai, California. He's been turning wrenches for about 12 years now, and is entrepreneurial minded.
Wes coaches his regular customers to use Auto Monkey because it's made his billing, scheduling and communications much easier.
"It's easy to use and the customers love it. Aside from that I think this is the future of automotive repair."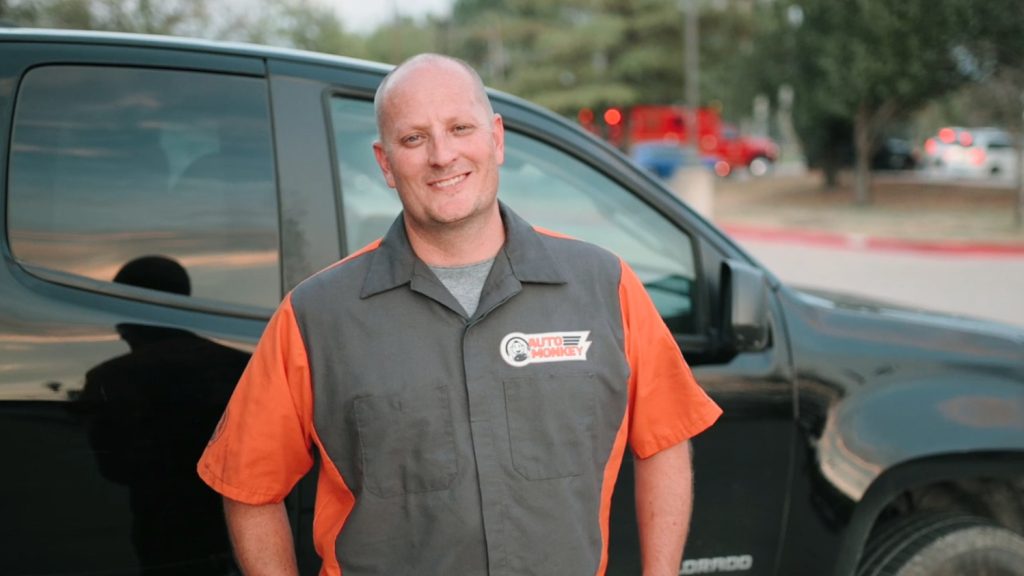 Founder/ Owner
Michael might be considered a shade tree mechanic, but his extensive background in branding and marketing is legit. With a Masters from the prestigious Northwestern University in Integrated Marketing Communications, Michael is a well seasoned strategist with 20+ years of experience in B2B, B2C, and B2B2C domestic and international marketing. "I consider myself to be an inventive thinker, a collaborator and mentor." He has proven success records managing global, cross-functional teams which produced recognizable and measurable growth.
Looking Forward Statement
Certain information set forth in this presentation contains "forward-looking information", including "future-oriented financial information" and "financial outlook", under applicable securities laws (collectively referred to herein as forward-looking statements). Except for statements of historical fact, the information contained herein constitutes forward-looking statements and includes, but is not limited to, the (i) projected financial performance of the Company; (ii) completion of, and the use of proceeds from, the sale of the shares being offered hereunder; (iii) the expected development of the Company's business, projects, and joint ventures; (iv) execution of the Company's vision and growth strategy, including with respect to future M&A activity and global growth; (v) sources and availability of third-party financing for the Company's projects; (vi) completion of the Company's projects that are currently underway, in development or otherwise under consideration; (vi) renewal of the Company's current customer, supplier and other material agreements; and (vii) future liquidity, working capital, and capital requirements. Forward-looking statements are provided to allow potential investors the opportunity to understand management's beliefs and opinions in respect of the future so that they may use such beliefs and opinions as one factor in evaluating an investment.
These statements are not guarantees of future performance and undue reliance should not be placed on them. Such forward-looking statements necessarily involve known and unknown risks and uncertainties, which may cause actual performance and financial results in future periods to differ materially from any projections of future performance or result expressed or implied by such forward-looking statements.
Although forward-looking statements contained in this presentation are based upon what management of the Company believes are reasonable assumptions, there can be no assurance that forward-looking statements will prove to be accurate, as actual results and future events could differ materially from those anticipated in such statements. The Company undertakes no obligation to update forward-looking statements if circumstances or management's estimates or opinions should change except as required by applicable securities laws. The reader is cautioned not to place undue reliance on forward-looking statements.
professional
mobile auto service repairs
This list of services is not intended to represent a complete list of services we provide. A more complete list is found on our app.
*Our mobile mechanic services do not include State Inspections, Programming, Transmission work, Body Work, Engine Rebuilds or any kind of Performance Enhancements.




Radiator & Cooling System